Starting a digital marketing agency or digital marketing company without any experience and strategy is difficult but not impossible. If you plan to set up the best agency to provide the best and 100% good services for your clients. So you have to follow a long process only then you will be able to become a good businessman and keep your clients and customers happy.
Starting a business is a tough challenge. You will also make many mistakes during this process but don't worry because a good businessman is one who has learned some valuable lessons from those mistakes and helped him to improve his processes and offerings and build a healthy and successful online marketing business.
I wrote this guide to help you start your own digital marketing agency and possibly avoid the mistakes I wrote, minimize your risks, and maximize your chances of getting it right the first time.
Is digital marketing a good business to start?
Before we get into the specifics, let me explain why a digital marketing company is a suitable business to start.
There is a huge demand for digital marketing services: After covid-19 all offline businesses are closed and with the increase in competition, the maximum number of companies are running their business online to increase sales and build their reputation. Due to this, the competition has increased and the demand for digital marketing services has increased.
You can manage a digital marketing company from home with the help of remote teams: One of the benefits of establishing a digital marketing company is that you do not need a real business location.
All activities can be handled remotely over email and Skype. As a business owner, you may also reduce expenses by working from home and using remote teams to assist you.
Become your own boss – If you want to work from 9:00 a.m. to 17:00 p.m. and create your own company, becoming a digital marketing manager is a fantastic opportunity.
It is a low-cost business to establish: You don't have to make a large initial investment. You only need an Internet connection, a few of tool subscriptions, and a website. Anything else (office space, personnel, and so forth) may be added later as the company expands.
How to start a digital marketing agency.
These are the important steps you must take when starting your own digital marketing agency.
Improve your digital marketing skills and self-confidence.
Decide what kind of services to offer
Decide how you plan to operate your business
Register your business
Establish your web presence
Showcase your experience and expertise
Choose the right tools
Define your business model
Get your first client
Start a digital marketing blog
Build your portfolio
Create your processes
Build your digital marketing team
Improve your digital marketing skills and self-confidence.
The first step is to develop the skills and soul required to manage a digital marketing company. This may be divided into three categories:
Digital marketing technical skills
Business management skills
Self-confidence skills
Digital Marketing Skills
Therefore, if you want to start a digital marketing company, you must first develop your digital marketing skills.
This implies you must understand what digital marketing is, how it works, and how to use one or more digital marketing channels to increase your client's traffic and revenue.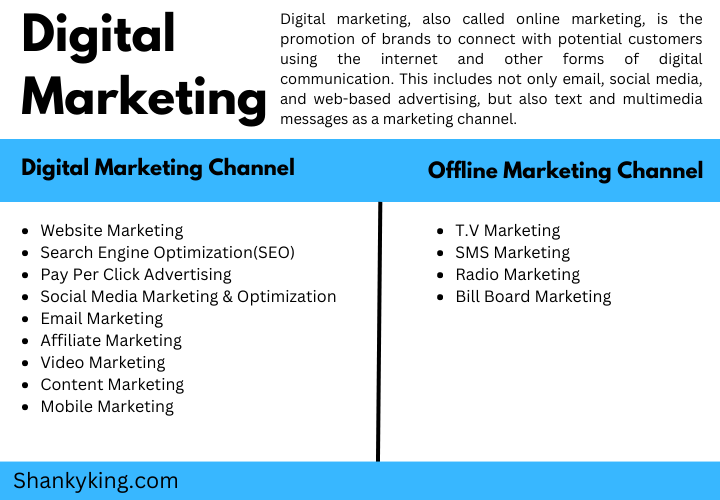 While you do not need to know everything from the start, you should be familiar with the following:
Search Engine Optimization(SEO)
Google Advertising
Facebook Marketing
Social Media Marketing
Content Marketing
Email Marketing
You can extend your digital marketing team and recruit professionals as your business grows, but if you're just getting started with little experience or money, it's critical to know how to do these jobs yourself.
This is an important success component. In the earliest stages of your company, you must reduce your costs as well as your reliance on others.
You must have hands-on expertise with the numerous digital marketing methods so that you can finally figure out what works effectively (in terms of money and clients) and where you will require assistance.
The most effective strategy to perfect a skill is to study the theory and best practises from established professionals and then practise a lot.
Digital marketing is a very practical subject, and knowing the essentials is not enough; you must obtain the necessary expertise through performing digital marketing.
You may learn digital marketing and improve your abilities by using the resources listed below.
Resources to Learn More
Business Management Skills
Because your objective is to build an internet business rather than operate as a freelancer, you must understand the fundamentals of business management.
You do not have to have a degree in Business Management, but you must progressively develop certain associated abilities.
Project management
Time management
Invoicing and billing
Contracts
HR management
As a business owner, you'll have to perform these things from the beginning and perhaps for a long time before you can recruit devoted employees.
Self-Confidence Skills
You can't manage a business unless you're prepared to take chances. To take chances, you must have self-confidence, and in order to achieve self-confidence in the digital marketing field, you must believe in your abilities.
You will fail if you start this business without knowing exactly how to boost a website's rating or how to use advertising to obtain more consumers for your clients.
So, before you begin delivering clients (as a digital marketing freelancer or business), you must first get experience by working in an established firm or on your own websites.
When you can use digital marketing strategies to create actual, measurable outcomes, you'll know you're ready to become a service provider.
Remember that there are hundreds of digital marketing specialists and firms on the market, and customers will almost certainly get many offers and do multiple interviews before making a hiring choice.
Because confidence will help you stand out from the crowd, be sure you have the essential information, abilities, and experience before taking the big step.
Select the type of services that can provide.
The next stage is to select what type of digital marketing services you will provide to your prospective clients. Typically, a full-service digital marketing agency will provide the following services:
Web design and Development
SEO Services
PPC Services (Google Ads, Bing Ads, Facebook Ads, etc)
Content marketing services (content writing included)
Social media marketing services
Email marketing services
Conversion optimization services
As a business, it will be tough to provide all of these services from the start, so pick the ones that match your expertise.
For example, if you are an SEO specialist, you may begin by giving simply SEO services, and then as your customer base grows and you earn more money, you can expand your offering.
Keep in mind that your aim at this point is to keep your costs low and rely on your abilities. If you try to go full-service from the start, you're likely to get lost in the process.
SEO and PPC services, in my experience, are the ones that may create more cash for you since they deliver genuine monetary value to clients.
Decide how you plan to operate your business
The next decision to make is how you want to run your company.
You have three choices:
As a virtual company from home and hiring remote teams
As a 'traditional business' with an office and local employees
A combination of both
All three solutions have advantages and disadvantages, and your selection must take into account the expenses as well as the location of your potential consumers.
For example, if you intend to service consumers in a certain city, having a physical presence in the region will aid in the establishment of your brand and the acquisition of additional local clients.
If you intend to serve clients all over the world, having a physical office will simply increase your monthly expenses.
In fact, one of the benefits of creating your own digital marketing agency is that you may work from home with remote colleagues. This approach is used by many internet and SaaS organizations, and it is the future of business.
You may consider employing local staff as your digital marketing portfolio grows, but they may also operate from home offices, so there is no need to pay for rent and other office expenditures at this time.
What you must do is pick a location in your home and set up your home office. This might be a separate room or an area of your home where you will work. You should also ensure that you have the greatest internet connection available because you will be working online.
It's time to make it official before moving on to the following steps. And by that, I mean:
Choose the name of your business
Register your domain name
Design your logo
Register your business legal entity with the relevant authorities
Get a toll-free number
Find an accountant and auditor
Find a lawyer
Create business cards
It is vital to accomplish this now and put all of the parts together, even if you will not utilise all of them right away.
Establish your web presence
The first actionable item on the list is to develop your internet presence, beginning with the establishment of a business website.
Because your agency's website is the "front door," you must ensure that it appropriately portrays your brand.
Your website should seem professional and provide potential clients with all of the information they need to determine whether or not to engage your firm.
Aside from defining who you are and what you do, make sure you clarify the benefits of employing you. Make your website about them, not about you.
Create unique landing pages for each of your services, and make it simple for potential clients to contact you without asking too many questions or for them to fill out complicated signup forms.
Your aim is to collect as many leads as possible, sift them, and focus on those with the best potential of becoming clients.
You must protect your brand name on all key platforms (Facebook, LinkedIn, Twitter, Instagram, and so on) and develop company pages in addition to creating a website.
Don't skip this step since clients will look at your Facebook page and investigate your firm before hiring, so make sure everything appears decent and professional.
Showcase your experience and expertise
One of the most challenging components of owning a digital marketing business, as we'll see shortly (step 9), is obtaining new clients. However, being able to persuade prospective clients to collaborate with you is also vital.
The easiest way to achieve this is to demonstrate your knowledge and competence.
This refers to:
An 'about us' page that tells your story and achievements
Success stories
Case studies
Academic credentials
Known companies you've worked for
Previous working experience
Customer testimonials
Partnership agreements
Certifications
Mentions from other websites
If you're just starting off, some of the above tasks may not be pertinent to you, but put them on your to-do list and strive to do them gradually.
Do some work on a friend's company website and ask for a review, or obtain a few of digital marketing certifications from trustworthy organisations.
Use the outcomes of your own website development to present as case studies on your company's website.
Make several guest posts on credible websites and provide a link to them on your homepage.
You'll ultimately need a lot of tools to manage your digital agency efficiently. In fact, behind salaries, paying for tool licensing will be your second highest expenditure.
You'll need tools to assist you into prove your digital marketing campaigns, develop client reports, invoicing, bookkeeping, and a variety of other tasks.
There are several digital marketing tools to pick from, but keep in mind that you should select tools that provide capabilities that you will really use, rather than ones that are great to have.
Businesses sometimes pay for software features they will never use, so pick cautiously.
Remember that you should sign up for tools that you can use not just on your own website but also on the websites of your clients, so keep that in mind when comparing the licence costs of each tool.
The first tool you'll need is a digital marketing platform, such as SEMRUSH, Ahrefs, Hubspot, or Moz.
These platforms include tools to assist you with SEO, content marketing, social media marketing, and PPC campaign management.
I choose SEMRUSH since it's a fantastic all-in-one platform with outstanding capabilities and moderate cost, but the other tools mentioned above are enough for the purpose.
Other paid tools you'll need are:
Software for lead generating :– Optinmonster is helping me develop my email list and increase conversion rates. It's incredibly simple to use and has a lot of functions.
Email marketing solution :- I use MailChimp for my website and many client websites, but there are many other solid alternatives available, like Drip, Constant Contact, Klayvio, and many more.
Grammarly:- Is an essential tool for any internet company. It assists you in avoiding spelling and grammatical errors in any online writing (including emails, proposals, etc).
Canva – You'll need a tool to generate nice-looking graphics and presentations sooner or later, and Canva is a terrific option.
You'll also need the following free tools:
Google Tag Manager
Google Data Studio
Google Docs
Google Slides
Google Forms
Skype
My advice is to determine which tools you will use and then spend some time studying how to utilise them and what capabilities they provide. Because your time will be limited once you begin working with customers, it is best to become acquainted with these tools ahead of time.
Define your business model
The following phase in the process is to identify your business strategy, or how you will charge for your services.
The following are the most common business models for digital marketing agencies:
Per hour
Per project
Monthly fee
Per hour:- You bill by the hour for your services. The hourly pay ranges from $30 to $120 per hour, based on your expertise, the client's location, the type of business, the services you perform, and the intricacy of the task.
Per project:- You and the customer agree on a specific price to accomplish the job. If your estimates are accurate, you will earn a profit; but, if your estimates are incorrect, you will lose money.
Monthly fee:- For the agreed-upon services, the client pays a monthly fee. This is common for monthly SEO services, PPC management, and social media management.
The monthly charge model is the most profitable, while the 'per hour' approach is the least profitable.
My advice to new agencies is to start with the 'per hour' or 'per project' approach. It's not the most lucrative strategy, but your aim at this point is to obtain new customers and develop your portfolio as quickly as possible, and the'per hour' model allows you to change your hourly fee to be appealing to new clients.
So far, we've spoken about how to build the foundation for a startup agency, but in order to become a true firm, you need clients. A company with no customers is only a concept, not a company.
So, how do you gain your first customer in digital marketing? Here are some first ideas that worked for me.
Family and friends – Your friends and family members almost certainly own or work for a company that can benefit from digital marketing services.
Make contact with them and offer to assist them with their digital marketing efforts. Take a look at their website and marketing methods ahead of time and devise a strategy for how you can assist them gain more clients, enhance their search visibility, and generate more sales in general.
Because this is your first 'formal proposal,' make it as precise and explicit as possible.
Explain to them why they should invest money in improving their website, why they should have active social media pages, how they can benefit from Google ads, the missed opportunities due to not using email marketing, and anything else that will persuade them to hire you as their digital marketing consultant.
Make sure your price is appealing to them at this time. Your aim is to create your portfolio, not to start generating money.
Working with your first customer will teach you essential things that will aid you significantly when working with your first genuine client.
Online job boards – using job search websites like Upwork and PeoplePerHour to get your first customer is another option. These websites feature hundreds of job posts for digital marketing jobs and might be an excellent place to start.
Here are a few tips to get you started:
When responding to a job advertisement, make sure you address ALL of the questions presented in the posting. Carefully read the job description and outline your plan of action.
Respond promptly. A job ad on those websites receives a large number of answers in a few of hours, and the work is frequently awarded to those who respond earliest.
Be truthful and offer reasonable promises.
Preserve low prices.
Start a Digital marketing blog
While working on your first client, make time to develop your own blog. By far the best lead creation tool for a digital marketing business is a solid blog with interesting content.
It's the most efficient technique to generate new leads while also convincing potential clients that you know what you're doing.
When clients find you through Google search, you don't have to sell yourself' since they already know you're capable of ranking websites high in Google, which greatly aids the registration process.
When developing material for your blog, attempt to target keywords relating to the services you now provide and that future clients may look for.
To give you a sense of how effective this method is, in the previous ten years, blogging has been the primary source of leads for my firm. We were able to deal with hundreds of clients from all over the world without spending a single penny on promotion.
Indeed, expanding your blog should be your primary focus since as your blog grows, so will your agency. Not relying on advertising can also help you develop your company into a prosperous one faster.
Build your portfolio and customer testimonials
When you reach to this level, your aim should be to keep expanding your portfolio and customer testimonials.
To quickly expand your portfolio, you will still need to provide low-cost services, but gaining testimonials and favourable feedback from clients can help you sign up more and larger customers in the future.
The reason I'm emphasising this point is because, while it's simple to attract new clients with modest marketing expenditures, in order to secure clients with large marketing budgets that may make a high return, you must have a great portfolio and ratings from previous customers.
I know from experience that this will take time, so don't be discouraged; instead, take it one customer at a time.
Create your processes
As your digital marketing firm expands and new clients come on board, you will find that you are unable to manage all assignments on your own.
That is the time to think about employing support, but first you must establish your processes.
We mean having a set of SOPs (standard operating procedures) to document all the steps you take to complete a certain activity. This covers the customer onboarding process as well as all of the services you provide.
It's critical to accomplish this now, before bringing on new employees, or you'll waste a lot of time explaining to them how you want them to handle client work.
Spend some time using your current client expertise to create email templates, proposal templates, custom reports, and checklists that anybody can use to complete a given assignment.
Keep things simple and avoid overcomplicating them. You may build and arrange your processes in folders using Google Docs and Gmail.
Build your digital marketing team
When you need to hire additional employees, it signifies you already have a number of clients, are earning a profit, and your procedures are in place.
If you haven't reached this point yet, my advice is to wait until you have the finances to take the risk.
Getting new individuals to replace oneself is challenging, and it is something that many digital marketing business owners (including me) struggled with at first.
Some tips to help you with this process:
Begin by employing employees to perform simple tasks:– Explain your expectations to your staff and document all procedures. Refine your process (developed in the previous stage) to ensure it is current and relevant.
Begin with recruiting freelancers rather than full-time staff:- this will help you save money and provide you more freedom. You can employ the extra assistance as needed and on a project-by-project basis.
Provide them with a trial project to work on:– It's not always simple to comprehend what abilities a freelancer possesses, so the best method to determine if they're a suitable fit for your team is to recruit them for a trial project before making a full-time hiring. You will save a lot of money and time by not employing the incorrect personnel.
Key Learnings
A digital marketing agency is an excellent place to start a business. You may perform services from the comfort of your own home, be your own boss, and it's a business that can expand without requiring a large investment.
While this seems great, there are a few things to think about before deciding to become a digital marketing service provider.
The first need is that you understand what you're doing. If you're new to digital marketing, you should first develop your abilities and obtain job experience before starting a firm.
Begin by performing digital marketing on your own website and experimenting with various tactics until you know what works and what does not.
Start slowly, don't strive to provide all services from the start, and don't grow too quickly. Build your portfolio gradually, one customer at a time.
When it comes time to hire new employees, make sure your processes are in place and increase your staff gradually. Hiring remote staff is difficult, and you may have to attempt a lot of individuals before finding somebody who can work well with you as a team.
The creation and growth of a blog should always be your primary focus. Blogging will help you attract new clients without having to spend for advertising, which may have a significant impact on your business.
Finally, remember that the customer is always right. Give your clients the attention they deserve and they will become repeat customers. This manner, you may reduce the cost of recruiting new clients, raise your profit, and expand your business more quickly.